I have to travel to Denver for work a few times a year and normally I fly out of Ronald Regan National Airport (DCA), but for reasons which are out of scope for this blog post this time I had to fly out of Dulles International Airport (IAD). Now the good thing is that both IAD and Denver International Airport (DEN) are United hubs so there are lots of options between the two. So paying attention to my various flight options I noticed that one flight was served by a 787-8, which meant it would have an international configuration which in turn means the first class seats would be lie flats and not the normal just slightly larger ones. Knowing this I made sure to book that flight and then got myself an upgrade (I'll never be important enough that work will pay for anything beyond peasant class, rumour is they're looking to see if we can be reclassified as cargo to save even more).
The 787-8 (and -9) fleet are still configured with the older United first class (pre-Polaris), but it's still a 180 degree lie-flat. I was initially annoyed that the "seat back pocket" is just a sleeve on the inside of your seat which won't fit even a small laptop so when the meal service comes around I had no place other than the floor to stow my laptop. There is a small tray under the screen but it's too shallow and narrow to fit much more than a smaller tablet.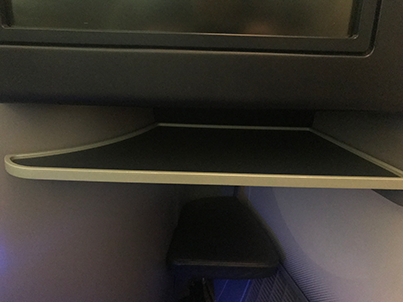 I later discovered the small area between the armrest and wall of the aircraft which worked reasonably well. Although it is prominently marked to not be used during take off and landing.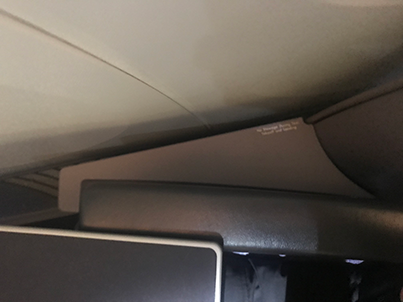 One of the things I remember reading was how the quiet the 787 was supposed to be, here I'm underwhelmed, I've flown other aircraft which are far quieter. Now it's possible that this is due to my seat (5L) which was just at the front of the wing and my view out the window was of the engine. I'm slightly surprised that row five would be that far back, but given the international configuration each row does take up a lot more space than usual and the galley and exit doors between rows three and four further pushes everything back a bit more, next time I'll try to get a seat futher forward. As usual I had my noise cancelling headphones on most of the flight so noise is rarely an issue, but I'd have been annoyed if I didn't have then.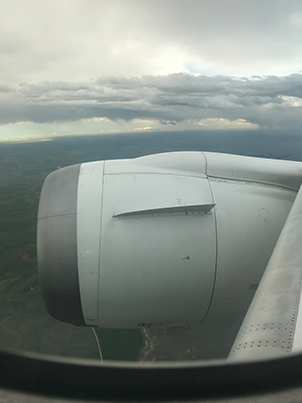 I do look the larger windows, I'm less enthralled by the lack of window shades, the electronic ones only dim so much which for a flight when the sun is still up does not let me fully blot out the yellow ball of imminent death. Now this was a short flight so not a huge deal but I could imagine a long TPAC or TATL it could be annoying to have the sun start glaring in when you're trying to sleep.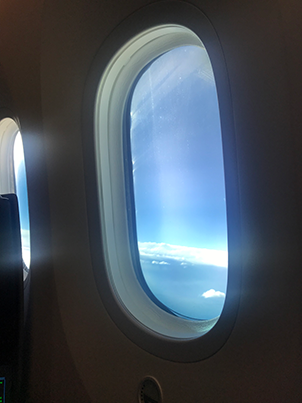 All in all it was a decent flight, but I'm not sure I would say the aircraft was any better or worse than the average big metal bird.